Surfing Girls Blog
The Surfing Girls Blog is a mini-journal about Surfing Girls. It...
* Lets you know whenever any new Web pages appear on Surfing for girls, telling you about a new find or adventure

* Keeps you up-to-date with other postings or news about the girl surfing world.

* Tells you about new surf products and surf spots.

* Lets you know when I send out the Surfing Girls e-zine (in case you don't like to give your e-mail address, or if your ISP tends to over-filter causing you to miss an issue).
To subscribe to my Surfing Girls blog (no e-mail necessary), right-click on the orange RSS button (see bottom buttons to the left) and then paste the URL into your RSS reader.
Or click on the Google, My Yahoo! button My MSN button, newsgator, or Bloglines button if you keep a personalized home page there.
If you are not sure what RSS and blogging is all about, click the question mark abowe the RSS button. What's an RSS Feed? Once you start, you will be amazed at what RSS can do.
Enjoy... this is fun!
Oct 30, 2013
Paige Hareb - The Kiwi on tour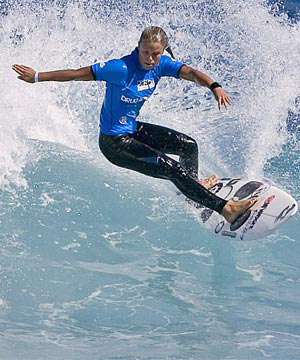 Who is Paige Hareb - Get a small insight into this professional female surfer
© Copyright 2009 Surfing-For-Girls.com