Paige Hareb - The Kiwi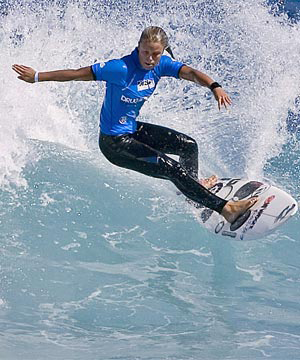 Name: Paige Hareb
Birthdate: 6th June 1990
Hometown: Taranaki New Zealand
Sponsors: Billabong, Mt Woodgee, Breakers Café' and Bar, Von Zipper, FCS, Gorilla grip
Board Manufacturer: Wayne McKewen shapes my Mt Woodgee boards – they are the best!!!
Bio
Paige Hareb created history recently by becoming the first female Kiwi to qualify for the World Championship Tour. 2008 was an amazing year for Paige on both the Australiasian Pro Junior Series as well as the World Qualifying Series.

After entering two World Qualifying Series events in Australia and placing 5th and 1st, Paige made the decision to travel the world with the aim to furfill her dream to compete with surfing's elite on the World Championship Tour. That dream became a reality in Hawaii at the end of last year when she was told of the great news.

Paige grew up in Taranaki on New Zealand North Island, with the ocean at her front door steps and the mountains in her backyard. Paige was introduced to surfing at a young age by her father, Mike on one of his longboards. Surfing hasn't been the only sport that Paige grew up with, she played tennis, soccer, basketball, rugby and was also a member of the New Zealand academy for skiing.

At only 18 years of age, one thing is for sure with the determination, national pride and solid surfing talent Paige possesses, she is ready to make her mark in Women's Surfing.

Paige Twitter: www.twitter.com/paigehareb



Paige on Billabong.com
TALENT: New Zealand's first ever female to qualify for the tour. Young but not innocent, this girl has the World Title firmly in her sights, she means business.
LIFE: fun, family and friends.
SURF QUOTE "All of us girls travel around the world together seeing amazing places, meeting cool people and experiencing different cultures and food while living a happy, exciting life and having a whole lot of fun along the way!"


Retirn from Paige Hareb to Best female surfers