Rosy Hodge - The Gypsy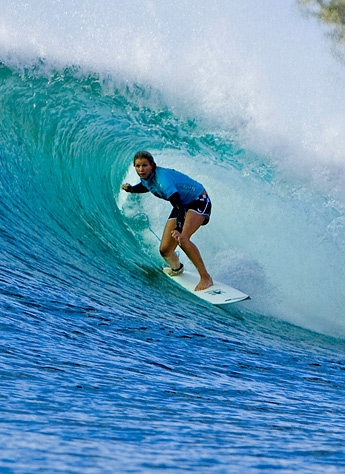 Name: Rosy Hodge
Date of Birth: April 27, 1986
Height: 5'10"
Stance: Regular
Sponsors: Roxy
Current Residence: East London, South Africa
Bio
Roseanne Hodge was born in East London, South Africa - a small town renowned for sharky surf spots such as Nahoon Reef and Queensberry Bay. Rosy, as her friends call her, has a great smile and her energy blesses everyone who crosses her path. She has been a Roxy rider since she was a young girl at 16. She is smart and always thankful even for the littlest favors.
Rosy showed an interest in water sports at an early age. She obtained State colors for swimming at the age of eight and started surfing at Nahoon Beach at seven during summer holidays with her brothers and father. In 1996, Rosy Hodge was elected for the Border State Junior Surf Team to compete at the South African Junior Championships in Durban. She competed in the boys 10 and under and placed fourth. She also won the Under 14 Girls division for four consecutive years - starting her surf career with tremendous promise.
Rosy made her professional debut at the 2003 Roxy Pro Fiji as a Trialist. She continued to compete where she was elected a wildcard entry in several WCT contests. Rosy's first year on the World Qualifying Series (WQS) in 2005, she qualified for the ASP Women's Circuit Tour (WCT). For 2008, Rosy is more determined than ever to finish in the top 5, and with her talent, work ethic, fitness and smile; she will fulfill her dreams.

Rosy at Roxy.com

www.rosyhodge.com
TALENT: South Africa's sole tour representative feels at home at every tour stop. Natural and vibrant, it's a snug fit with the gypsy life.
LIFE: short and sweet
SURF QUOTE "I'm grateful to be part of the surfing lifestyle. I get to do what i love, everyday. I'm happy with the life that i have and the role surfing plays in it."
Return from Rosy Hodge to Best female surfers