Jacqueline Silva - The Thoroughbred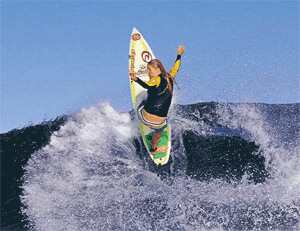 Name: Jacqueline Silva
Nickname: Jacque
Birthday: July 17, 1979
Hometown: Florianopolis, Santa Catarina, Brazil
Lives In: Barra de Lagoa, Santa Catarina, Brazil
Bio
When Jacqueline Silva first took to the waves with her older brother 14 years ago, it's doubtful she dreamed such a fun endeavor could take her to all corners of the globe. After meeting her current coach, trainer and manager, Bira Schauffert, Silva began surfing contests at a time when female categories barely existed in her country, which meant she had to compete with the boys her age.
The young Surfista Brasileira (Brazilian surfer) began to make waves on the scene as the four-time ASP Santa Catarina Pro champion from 1991-1994, and was chosen as "Rookie of the Year" in her first season as a professional in 1997. The next year she finished in 6th place on the ASP WQS and three years after that she finished in the top position on the qualifying series.
Although health problems prevented a peak performance in 2003, she made a come back as the first international champion at the Roxy Pro Gold Coast Event in Australia in 2004, catapulting Silva to the front of the ASP Women's World Tour.
Jacqueline's remarkable talent and ice-cold competitive nature emerged once again in 2007, where she repeated her first place finish on the ASP WQS, easily requalifying for the Dream Tour this season. Having already established herself on the 'QS, look for Silva to build her reputation on the elite ASP Women's World Tour in 2008. Jacqueline at ASP World Tour

www.jacquelinesilva.com.br
TALENT: After ten years on tour she is fit, toned and athletic; a true thoroughbred ready to run any race or surf any heat.
LIFE: be happy. Live your life every second.
SURF QUOTE "It's so cool to be traveling around the world searching for good waves, meeting people, competing, living from the sport, doing what you love, it's beautiful."


Return from Jacqueline Silva to Best female surfers