Surfing big waves - The spots and the women who rides them
Surfing big waves! Big wave surfing is the last remaining bastion of male domination in the surfing world. But there are chinks in the wall already. Female big wave surfers are beginning to earn the respect that is their due. All of the biggest spots known for awe inspiring waves are being tackled by women now.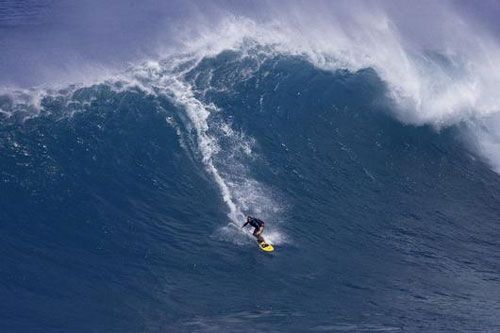 Check Maria Souza surfing big waves and learn more about female tow in surfers
Big wave surfing is definitely not for the faint of heart. The big wave surfers, who have the ability to stare a 50 foot wall of water down and look at it as a welcoming challenge rather than something to watch from the safety of the beach, are a breed unto themselves. Male or female.
The adrenalin rush that comes from gliding down the face of a wave that is higher than your house is a thrill that only a few will ever experience. The Meccas of huge surf are few and far between. And they generally only break a few times a year. But when they do they draw the addicted like the call of the Siren.
Hawaii's big waves are familiar to even non surfers. Captured on film again and again spots like Waimea Bay, Jaws and Pipeline draw some of the largest numbers of surfers and crowds to watch them.
California offers some of the most well known monster surf in the world. Big wave surfing in Santa Cruz and nearby Half Moon Bay's Maverick's are magnets for surfers from around the globe. When the conditions reach their peak at Maverick's a brief 24 hour notice will have all of the biggest names there the next day.
California also boasts one of the most inaccessible big wave spots. Discovered less than a generation ago, Cortes Bank is a break created by an underwater mountain range. That breaks over 100 miles offshore. Now THAT is a tow in. Learn more about Tow In Surfing here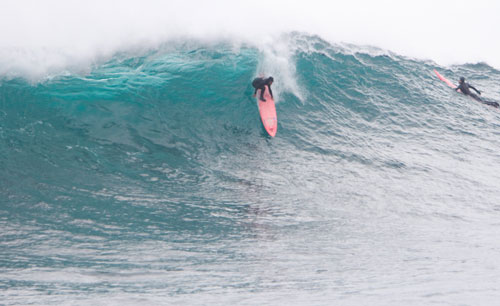 South Africa's contender for enormous waves is Dungeons. Huge waves have enticed Red Bull to sponsor their annual Big Wave Africa contest here. And it was here that Kim Hamrock, aka "Danger Woman" became the first woman to brave these monsters. At the age of 44. Now that is a woman who has earned her nickname.
The second most photographed big wave destination following Hawaii is Teahupoo in Tahiti. A reef break that could just be one of the most stunningly beautiful surf spots on the planet. And which has also been braved by Brazilian woman Maya Gabeira.
Having both an extensive coastline and a fairly isolated location sets Australia up to have a bevy of big wave hot spots. The open southern exposure to Antarctic swells sets up Tasmania's Shipsterns to get monster waves about 10 times a year. Cyclops and Ours are the two other prime spots in Australia, and Ours was where Seven time world champion and renowned Hawaiian charger Layne Beachley rode what most witnesses are calling the Best wave ever ridden by a female surfer in Australia ever.
How could you not become a surfer with a name like Beachley?
Surfing waves that can toss a school bus around like a toy is the realm of only the bravest and most daring of surfers. Virtually none of the surfers you see on your local beach will ever tackle any of these monsters. The dangers are borne by the few that are willing to risk injury and possible death for the thrill of the best ride of their lives.
Return to Surfing Girls Home page