Melanie Bartels - The Magician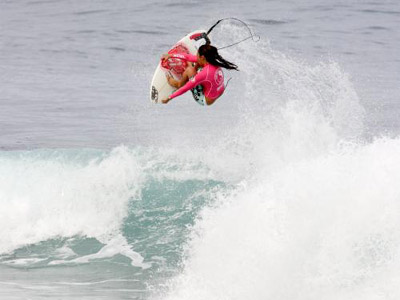 Name: Melanie Bartels
Nickname: Turtle
Birthday: May 2, 1982
Hometown: Makaha, Hawaii, United States
Lives In: Makaha, Hawaii, United States
Bio
"Melanie Bartels grew up on the rough and tumble westside of O'ahu, giving her a competitive edge that has seen the talented Hawaiian develop into one of the most explosive surfers on the planet. As a grom, she learned how to surf and bodyboard with some of the best watermen in the world and her innate oceanic prowess has surely reaped dividends throughout her life. She was acknowledged in high school for her athletic abilities when she won the Kaimana Award, recognizing student athletes who excel both on and off the field. Coming from a place that breeds talent, but with minimal financial resources for sponsorship, Melanie has worked hard to get to her professional surfing status.

In 2002, Bartels won the prestigious ASP WQS Foster's Cup at Lower Trestles, CA which put her on the map within the industry. Although yet to put together a consistent season amongst the elite, make no mistake, all the top seeds on the ASP Women's World Tour have their eye out for Bartels as she is capable of putting in world class performances at any given moment." - aspworldtour.com
TALENT: Sponsored by Hawaiian Royalty, rides a body-board for fun, has a son, gives away her surfboards for those less fortunate and surfs like a World Champion; she just doesn't have the trophy......yet.
LIFE: is what u make of it.
SURF QUOTE "I love traveling to amazing places doing what I love to do which is surfing, being on the ASP Womens World Tour has allowed me to do all of this for a living. I'm so grateful to be part of the women's tour and the progression of women's surfing."


Return from Melanie Bartels to Best female surfers