Layne Beachley - The Icon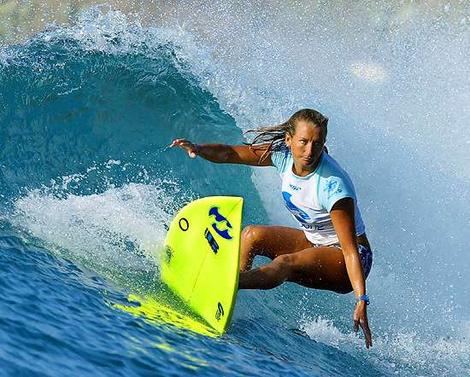 Name: Layne Beachley
Nickname: Beach
Birthday: May 24, 1972
Hometown: Surry Hills, NSW, Australia
Lives In: Surry Hills, NSW, Australia
Bio
ven-time ASP Women's World Champion. What more does one need to say? How about the most winning-est professional female surfer of all time? Or one of the most confident big wave female surfers out there? Her achievements in the water speak volumes, so she doesn't need to. Fearless when put to the test, no one would challenge that all of her accolades have been hard fought and hands down equally deserved.
Layne grew up on the beaches down under, one of the only surfer girls in an often, male dominated sport, but she didn't let intimidation in the water stand in her way. Instead she used the blocked waves and taunting boys as training ground to launch her onto the scene and by 16-years-old was surfing at the professional level.
She made her debut on the ASP Women's World Tour in 1989, and while she struggled to place up top, she worked hard in her early years to improve her surfing and increase the intensity of her performance. By 1993, she won her first event and proved she wasn't going anywhere by finishing in the top five on the ASP Women's World Tour from 1993-97.
Her first ASP Women's World Title came in 1998 and she held it tight, winning five more titles in the years to come. Layne is undoubtedly one of the best there is and continues to be. More titles are out there and Layne has what it takes to keep her competitors in the surf watching out. Layne at ASP World Tour
TALENT: Seven times ASP Womens World Champion, 29 World Tour victories, 20 years on tour, what comes next? "To continue building an empire that becomes big enough to give back to a sport that has provided me so much."
LIFE: Get on with it!
SURF QUOTE "Being part of the ASP Womens World Tour for 20 years has enabled me to travel the world, experience a variety of cultures and live an enviable lifestyle."


Return from Layne Beachley to Best female surfers