ALANA BLANCHARD - The Pin Up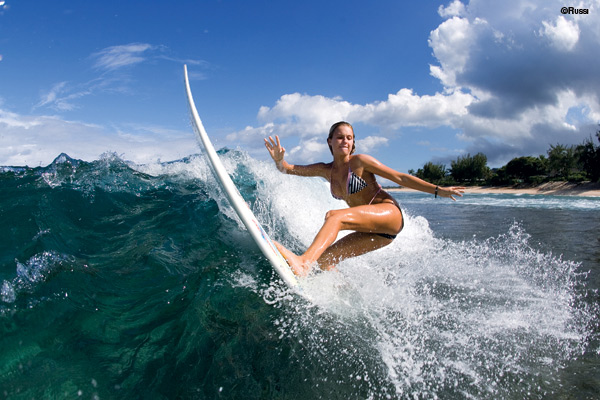 Name: Alana Blanchard
Date of Birth: March 5th, 1990
Born: Princeville, Kauai, Hawaii
Lives: Hanalei, Kauai, Hawaii
Sponsors: Rip Curl, SB Surfboards, Surf One, Sticky Bumps, Sanuk, SPY, Future Fins, Hanalei Surf Online, Vertra Elemental Resistance, JN Mazda
Bio
Hailing from the North Shore of Kauai, young Alana Blanchard is destined to leave a mark in female professional surfing…actually, she already has. At the young age of 15, Alana signed up for the 1st Annual Female Pipeline Masters. Not only did she challenge the tricky conditions of the world's most notorious, infamous, and photographed break, but she became the first female Pipeline Master in the process.
She shocked the world's best when she tore apart the 6'-8' ft. Hawaiian conditions at the 2005 O'neill World Cup of Surfing at Sunset Beach. She took down the likes of World Champion Sofia Mulanovich and Claire Bevilacqua on her way to a 3rd place finish!
Her amateur accomplishments are endless: NSSA Nationals multi-finalist, NSSA Hawaii State Regional Champion, 2005 National GromSearch Champion, and the list goes on. However, not only is Alana undoubtedly one of the world's best young female talents, but she's also beautiful and extremely down to earth. Surfing is her life, and there's no doubt that it will also be her career.
With the support of a great family, the likes of Bethany Hamilton as a surfing partner, and the North Shore of Kauai as a personal training ground, there's no slowing down this girl in becoming one of the planet's best female surfers.
TALENT: She's down to earth, beautiful and charges infamous Banzai Pipeline. She's a pin-up who can surf.
LIFE: adventure, love and happiness.
SURF QUOTE "Surfer girls rip and they are hot."
Official Site: www.alanablanchard.com


Return from Alana Blanchard to Best female surfers