Bruna Schmitz - The Rookie on tour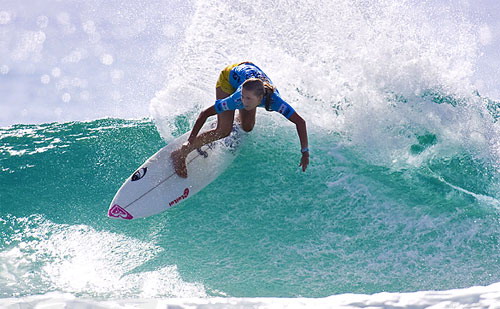 Bruna Schmitz
Date of Birth: April 27, 1990
Height: 5'8"
Stance: Goofy
Sponsors: Roxy
Current Residence: Matinhos, Brazil
Bio
Brazilian beauty Bruna Schmitz hails from Matinhos, on the Parana coast of Brazil and has been surfing since she was 9 years old. At the age of 12, she kicked her passion for surfing into high gear with a surf trip to Ecuador, followed by her first trip to Hawaii at age 13 and she has been hooked ever since. In 2005 at 14, she joined the Roxy team with over 30 surfing titles, including the 2003 Billabong Pro Junior, making her the youngest athlete to win a professional event in Brazil.

Bruna's early trips not only hooked her on surfing, but also gave her a travel bug and since then she has traveled and surfed all over the globe including places such as Tahiti, Peru, Australia, Indonesia, New Caledonia, France and South Africa to name a few.

2008 was a huge year for Bruna who started on a high note with a 2nd place finish at the first WQS event of the year, the Roxy Surf Festival. From there the fire was lit and the results kept coming, and Bruna remained in the top 6 in the rankings for the rest of the year, qualifying for the 2009 Women's World Championship Tour (WCT). As one of five rookies heading into the 2009 season, the stage is set for the avid competitor and smooth goofy-footer to make her mark on tour in 2009.
TALENT: Beauty or competitive beast? Don't let this Brazilian bombshell fool you, this rookie means business.
LIFE: Is being who you want to.
SURF QUOTE "Being on tour is about surfing all the best spots, and getting to know places and people. It's like the best promotional job."
You can also find more on the ASP Womens World Tour Surfers on the ASP website!


Return from Bruna Schmitz to Best female surfers